How To Stay Productive While Working From Home
Posted by AUTHOR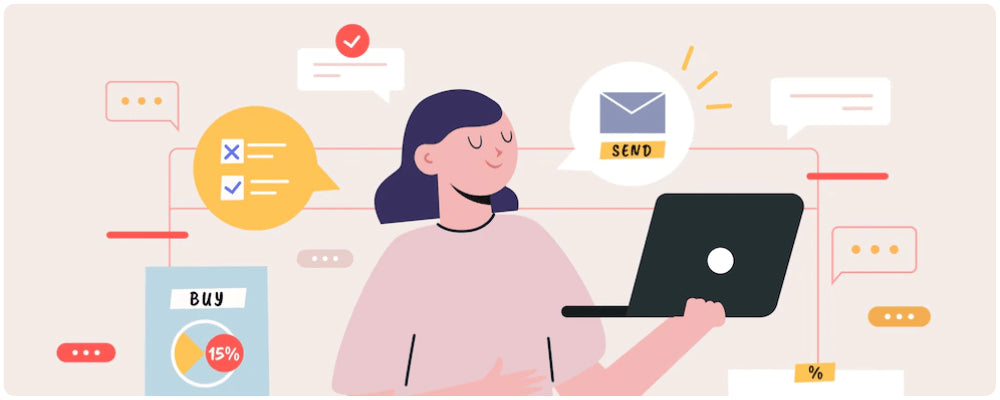 Are you struggling to make the most of your work-from-home opportunity? Permanent remote workers follow these ten simple yet effective strategies to be their best at work.   
While the pandemic changed our lives for a good two years (that honestly seemed like forever), here we are at the next chapter (thankfully!). Corporates are now keen on welcoming their workforce back to the office. And that means you're either left with no choice but to return to the office permanently or choose remote/hybrid.
Here are ten smart and free tips to enhance your productivity and improve your quality of life by setting up your Work From Home space and developing rhythm and rules around remote work culture.
1. Create a rhythm and flow into your workday  
Find a routine for yourself that would set you up for a great start to the workday. You can stretch your body with yoga, prune your plants, take your dog for a walk, and prepare breakfast to signal your body and mind to start your day. Most of all, figure out what works best for you and keep at it. 
2. Set your office hours
Maintaining discipline around work hours can be the most significant gift you can give yourself as a remote worker.
Although remote working offers the flexibility to work at your pace, sticking to set office hours is clever. 
It would help you develop a clear delineation between work and personal life. So, call it a day when your office hours end, and put away your laptop and other work items. But, most importantly, make it a practice never to be available for work 24x7 unless you signed up for a job of that nature. 
3. Invest in an ergonomic chair and height-adjustable table
Research says that sitting for long hours could increase bodily discomfort and anxiety. So, invest in an ergonomic chair with seat height adjustment, lumbar adjustment, 360-degree rotation, and, most importantly, an armrest. You can also have a footrest to ensure your legs are 90 degrees from the floor. 
A  height-adjustable table helps you sit/stand relaxed in a correct posture and at an appropriate viewing distance from your laptop screen. So, investing in such a table can be a game changer.
A good ergonomic chair and height-adjustable table can not only address your back, neck, shoulder, elbow, and wrist pain but offer you excellent comfort.
4. Use laptop stand and accessories
A laptop stand is an inexpensive investment in your workspace setup. It has height and angle adjustments to provide the correct alignment to work comfortably. In addition, it prevents your laptop from crying, "I'm hot!" meaning overheating.
Other accessories worth picking for your home office are a lumbar support cushion for better posture, whiteboards, and pin-up boards, so you never miss an idea or reminder. In addition, computer/laptop UPS to combat power interruptions and a high-speed router to avoid poor connectivity are worth investing in.
According to Harvard Business Review, research points to decreased focus and sabotaged productivity because of a messy desk. A desk organizer can keep you sane in many ways without having to dig into a bin full of stationery. Finally, choose a corner with good lighting and ventilation- the critical ingredients for heightened productivity and decreased stress.
5. Take short breaks
An office setup warrants multiple breaks under the pretext of coffee, a water cooler, and a lunch break. While at home, you could begin to feel lonely and isolated very soon if you don't proactively set dedicated time for recess.
An excellent idea to stay connected to your colleagues is to invite them for a virtual lunch or coffee chat to catch up with life events. Having a monitor screen can enhance your virtual meetings profoundly. These monitors are designed to reduce eye fatigue, stream seamlessly, and usually come up with built-in speakers, microphones, and webcams.
You can also stroll around your neighborhood post lunch to help you get some movement and be back with a bang for the next half of the day. 
6. Hang a signboard outside your office room
Segregating personal and professional life can be difficult when your home doubles up as your office. So, set ground rules around your remote work and make it known to people in the house.
You can leave a "Do Not Disturb" sign outside your room when in a meeting or working towards a deadline. Ensure you have a caretaker for your infant/toddler and elders at home so you can work undisturbed. 
In addition, you can invest in good noise cancellation headphones to tune yourself out of background noise and distractions.  
7. Plan your day in advance
Planning can make your life easier in many ways. Have a physical notebook, post-it notes, or a post-it dry-erase whiteboard to jot down your daily tasks. You can also use apps online to enter your to-do list and keep track of it.
Insights in Office 365 lets you set aside time to focus, prepare for meetings, and follow up on emails and requests. Make the best use of technology to work efficiently.
Meal preps are life savers! 
Be a master at planning your meals. For example, make extra dinner portions to sort the next day's lunch if preparing something from scratch in the morning is daunting. But ensure your pantry and kitchen are closed when you sit at your desk. By doing so, you're doing something good for yourself.
8. Exercise regularly
Exercising regularly heightens your endorphin levels, bringing many health benefits such as heightened mood and energy, reduced risk of diseases, enhanced mental health, etc.
To begin with, go for a brisk 30 min walk at least five days a week. Then, jog with friends and walk your dog more often to get some cardio workout for the day. Finally, pick up a sport like swimming, tennis, or badminton at a nearby club. You can always make some friends and make up for the missing real-time conversations by prioritizing fitness in your daily life.
Other ways to stay fit include becoming a member at your local gym and using fitness apps like Cure. Fit, HealthifyMe, and MyFitnessPal. 
9. Prioritize your well-being
We have all been impacted by the stressful lockdowns, remote work, childcare, elderly care, home-schooling, etc., during the pandemic, leaving many of us to seek some form of support to help us. According to WHO, the COVID-19 pandemic triggered a 25% increase in depression and anxiety worldwide. 
As we roll back into normalcy, prioritizing mental health is even more critical.
Download and start using apps like Headspace, Calm, etc. They help you focus, sleep better, decrease stress and nurture a positive outlook on life through guided meditation, mindfulness, and yoga.
Move around furniture and welcome some indoor plants into your home. Pick up some home decor to jazz up the ambiance of your home office.
10. Pursue your passion project
Working from home spares you a lot of time for other things because of not commuting. So what is the best way to use time than pursuing something you are passionate about?
You can conduct a cooking and baking workshop if you're an excellent cook or baker. Are you interested in makeup? Attend a certification course and start side hustling! 
Finally, participate in activities that give you happiness. For example, volunteer at a local NGO, run your city marathon, participate in a beach clean-up project, go on heritage walking trips, or even bike to the Himalayas- literally anything that makes you happy!
Summary
Working from home might be a distant dream for many. But if you have the opportunity, make the most use of it while mitigating the cons as much as possible.
Any place can be great if you can create the ambiance and discover a routine for yourself. Make a conscious effort to stay connected to your team and visit the office as time permits. You can also plan to work from a co-working space or café to help beat the mundane. 
Ultimately, put together things that would help you integrate work and family in the best way for you. 
Investing in the right furniture, devices, and equipment can make any place great. Check out  The Home Office for all your home office needs!