Tips To Help You Choose The Right Desk For Your Office
Posted by AUTHOR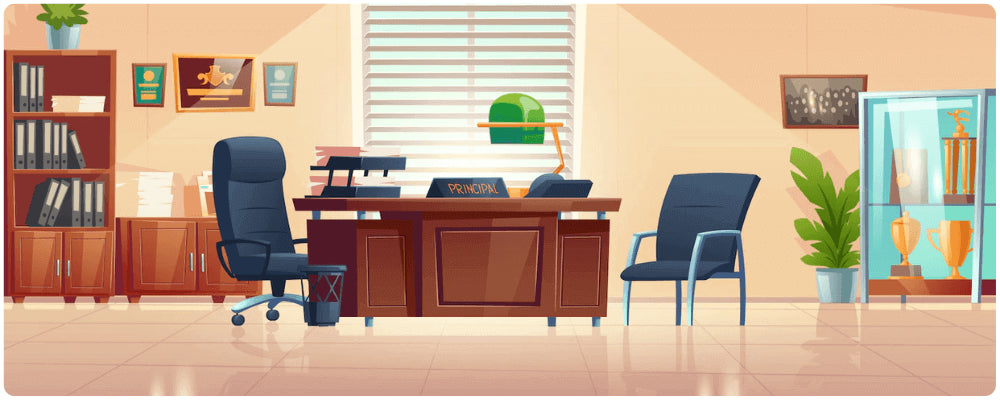 Types of office desk
Space is an issue when you need to have more furniture to store more files and accessories. But with the correct type of office desk, you can save space. Look out for the following types of desks when you shop for your office furniture.
 1. Reception desk
This is the focal point in any organisation as this is the first thing everyone sees upon entering the office. They should be elegant and functional. 
 2. Computer desk
These desks should be comfortable to work with and should have keyboard trays attached. The table top should also have space to keep your diaries, notepads and space to write comfortably.
3. Standing desk
To avoid continuous sitting, standing desks are preferred. They are height adjustable and also facilitate alternate sitting and standing. This is an engineer's or architect's best friend. 
4. L-shaped desk
This is best suited to using corner spaces. This has more storage space for documents. With this unique design, you also can flaunt your workspace with a great sense of achievement. 
What size should an office desk be?
Office desks come in various sizes and dimensions. If you were using multiple monitors, 60 inches by 30 inches would be a good size for your desk. For regular desk work, a 30 inches by 24 inches desk would be the right dimension. The size of your office desk depends largely on your requirement and the available space. 
For a sitting desk, the minimum width would be 24 inches per person, leaving a depth of 18 inches for knee clearance. Look for height-adjustable desks where the size margin can be adjusted to fit your needs. Look out for this information while browsing for office desks online. There is no one-size-fits-all here. 
Key factors to finding the right office desk
The following are some of the key factors that help determine the right office desk for you:
1. Space available
Space is the most important factor when deciding on the right desk. If you plan to have a large office desk with limited available space, your work area may look cluttered and not be functional too. 
2. Height adjustability
While looking for office desks, always go for height-adjustable ones. Your height may not be appropriate for all kinds of desks. If your height is between 5'8" (172 cm) to 5'10" (177cm), then 28" should be the ideal desk height. Desks with adjustable height can be very useful.
3. Purpose
The purpose for which you will use your desk also helps in identifying the right desk. You may use it as a writing desk, laptop table, gaming table, etc. Depending on the need, the size of the table also varies. 
4. Storage
Whether your executive office desk has adequate storage space is also an important constraint. People who love to be organised need space for their paperwork, stationery and other things. A desk with ample storage space will be the right choice for such people. Storage availability may increase the size of the desk, so care should be taken regarding this. 
5. Comfort
Above all, comfort also plays an important role in choosing the right office desk. Ergonomic desks are the ones you should look for since they are functional and at the same time, do not let you strain much. 
Best office desk and table to buy online
1. Office tables
A sturdy model in the latest design, the Strongman classic desk is suitable for both work and study. There is abundant storage space with a drawer and a cabinet. The desk allows ample leg room, which makes it comfortable to stretch while working. The desk is made out of premium quality engineered wood.
This is a height-adjustable desk and comes with maximum comfort to fit any requirement. The desk has levelling feet and can stand sturdy on any floor surface. This desk is made out of heavy-duty, moisture-resistant, eco-friendly particle board and steel. It has a detachable crank and so you can drive the desk at any position. It is a space saver when not in use. 
This durable desk comes with a unique design and has a bookshelf attached to its side. It is made of engineered wood and is ideal for studying and working from home. It has ample storage space on the shelves and also enough legroom. Assembly and installation of the desk are simple and easy. 
A multipurpose, space-saving table, the Picardo model can be used for study, work desk, dining, and as a laptop desk. This is an excellent solution for people with space constraints. This is multipurpose as it can also be used as a whiteboard, being white. It is easy to clean and maintain. It is made of high-quality engineered particle board and has two strong folding brackets. It can hold a weight of up to 60 kgs.
Made out of a powder-coated melamine steel frame, this computer desk features a special design. It has extra top space for storing books and stationery. This Flexi foil table comes in two colours, white and yellow. With wheels attached to the feet, it is easier to move the table to any corner you want.
Versatable
This is one table with many functions. It is height-adjustable and has tabletop adjustable angles. This table is fitted with wheels for easy movement. The table is sturdy and space-saving. You can use it to support your laptop at steep angles too. This is a very good option for people working from home and having space constraints.
A very unique and versatile model that can be fitted even to your balcony. Work from home is made better with outdoor views while still at home. It is easy to assemble and can be fitted to any balcony railing. The table is weather-resistant and spill-proof too. It is an ideal design for working and relaxing at the same time.
This desk is a minimalistic version and is a space saver. It has a strong metal base with sledge legs. The tabletop is made up of engineered wood and is sturdy. It has enough space for your laptop and can be moved to any space at home as it is lightweight. It can be easily stored away when not in use. 
With a programmable digital controller, the desk offers advanced memory and timer functions. It is fitted with a proprietary Gyro-current collision avoidance system that detects objects under the desk during height adjustments. It has a sit and stand time reminder for regular movement. The desk is BIFMA compliant. It has three programmable memory and sauces the height desired by you.
This is an apt choice for the home office. It is height-adjustable and has a foldable;e handle that prevents interference with you and the desk. The feet of the table is level and adapt to most floor surfaces. The desk provides maximum comfort with a standard column construction. This keeps the desk sturdy while adjusting the height. 
Where to Buy Office Desk in India?
If you are looking for a desk for work from home, TheHomeOffice (THO) is the one-stop solution. In addition to being home to an extensive range of office desks, chairs and other related wfh furniture to set up your home office, THO offers hassle-free shipping and installation as well. 
It has a robust online store and delivers to all major cities of India. THO also has a corporate discount program you need to check out if you are looking to buy office furniture