10 Tips to Decorate Your Home Office For a Better Work Environment
Posted by AUTHOR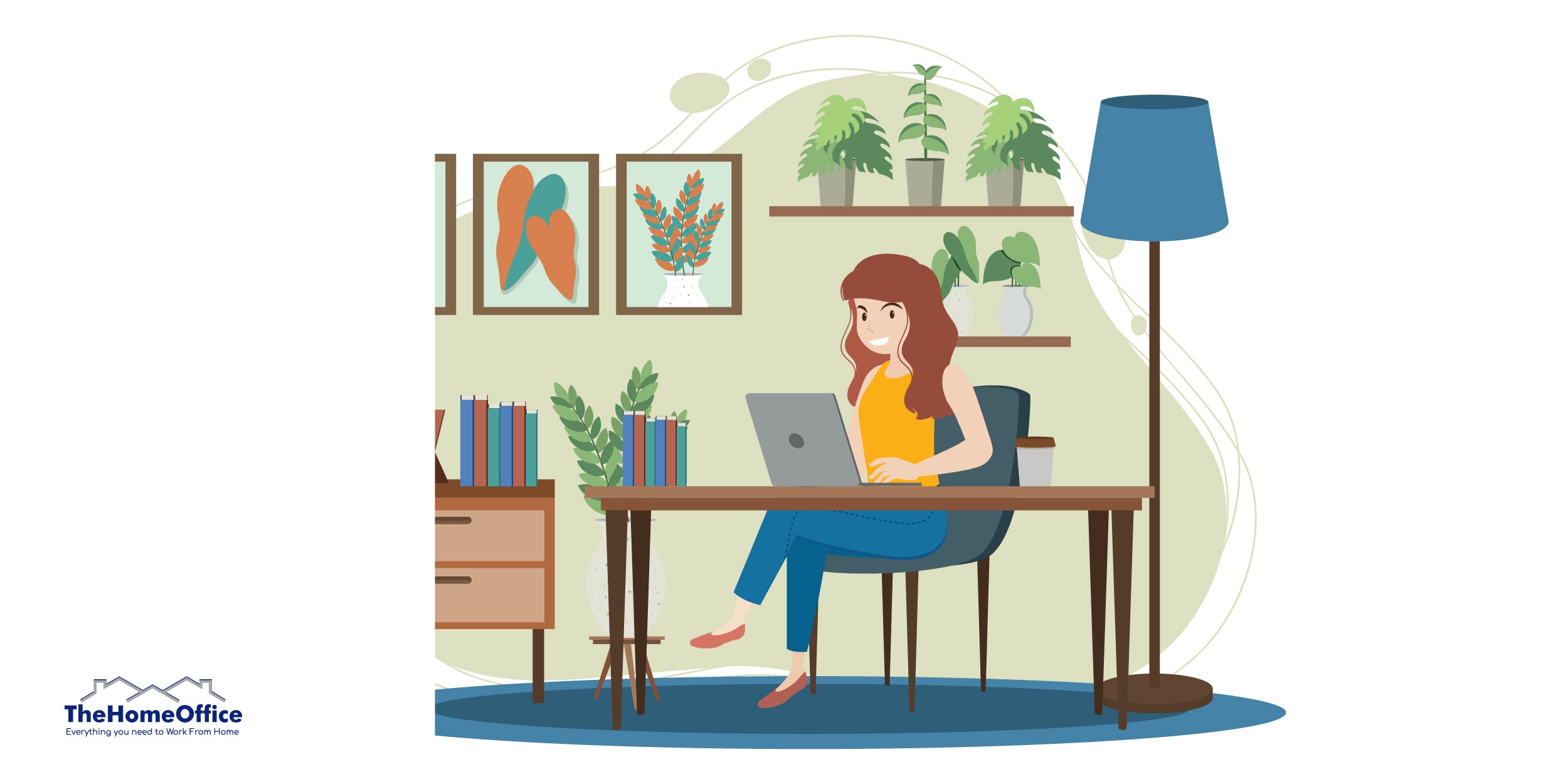 Having a home office has become a necessity more than a choice post-pandemic. You're lucky if your work revolves around a laptop enabling you to do the job anywhere. So, why not leverage the flexibility and create a conducive work environment at home? 
A good home office is inviting, inspiring, functional, and ergonomic. Your space could be a dedicated room or a small corner in the living room of your house. But making the most of it and using it creatively is the idea. In this blog, take away 10 interesting tips to decorate your home office for a better work environment. 
Importance of a good home office setup 
While working from any corner of your house may seem cool, having a good home office setup will benefit you in the long run. Here are five reasons why a good home office setup is essential-
Focus: Working from a sofa, kitchen countertop, in the hammock, or on the bed can seem like the perks of working from home. But they can all be equally destructive. So having a dedicated space should be a priority to focus better and get your work done smartly.

Productivity: When you struggle to focus, your productivity is significantly impacted. You may notice that longer work hours are not helping and that the amount of work you get done is falling dramatically. So, refresh your home office for a productive setup. 

Work-life balance: A dedicated space signals you that your place of work and home is different and helps you draw the boundary between work and other aspects of life. Due to this, your job and personal life will be more harmonious. 

Maintain professionalism: A private space with a good home office setup helps you maintain professionalism, especially while driving meetings, presenting to your colleagues and clients, and even getting your work done.  
10 tips for setting up and decorating your home office
Here are ten tips to help you get those creative juices flowing and allow you to be productive at your home office. 
1. Natural lighting  
There's nothing better than a well-lit room for office space because the presence or absence of light directly affects your mood. In addition, sunlight plays a considerable role in how your brain functions, so irrespective of the space, strategically aim for furniture placement so natural light is abundant. 
You can also place a mirror to reflect the light coming in and fill the entire room with daylight. Another way you can promote natural light into the space is by using lighter/softer curtain fabrics, just enough to let adequate light in. 
2. Ventilation
As much as we need fresh air, good ventilation inside a confined space is crucial for our bodies. So, ensure you periodically open your windows and let in the fresh air inside the room. You can also use a good quality air purifier in the office room. 
Another cost-effective and soothing option is bringing in plants that act as natural purifiers.  
3. Plants
Plants bring a burst of energy into the office room that is usually monotonous, serious, and busy. The very act of watering the plants and ensuring they're thriving in your space boosts your spirits. So, having 3-4 plants is always a good idea. But what plants are suitable for a home office? In simple terms, any low-maintenance, low-light-seeking plants would work. 
You can also go for succulent varieties that don't need a lot of watering. However, if you are confident to water your plants at least a couple of times a week, then any air purifier plant is highly recommended, like the snake plant. 
4. Lighting 
Lighting is critical for a good work environment and can benefit your mood, eyesight, focus, thinking, and work speed. 
Other than natural lighting, installing some good light fixtures is refreshing and essential to make your space well-lit for better focus. Of course, as a staple of any home, floor lights are always good to provide ambient lighting and can serve you well at your home office too. But in addition, you might need a good desk lamp or task lighting to get extra light in the space where you're working. You can also choose mood-based lighting if you fancy it. 
5. Painting & photos
For a touch of color and glamor, add your favorite paintings that you picked from your last vacation or your kiddo's finger painting that reminds you of how special they are. 
If keeping your loved ones closer to you brings positivity, bring photo frames and put them on the wall. Then, for a pat on the back, you can add framed certificates or create awards galore if you have space. 
6. Storage space
If you're working out of a walk-in closet-turned-office room or a space partitioned in the living room, this might not be an option. But if and when you have the scope, consider adding good storage space like wall shelves or bookcases. They help you achieve a well-organized home office and create the ambiance for productive work. 
A bin or a desk organizer is good enough for smaller office stationery. However, filing cabinets are a must if you work with many papers. 
7. Area rug 
A solid or colorful rug can anchor the space and add character and depth to your work environment. It not only adds warmth as you step in, but it also helps in noise reduction.
8. Accent wall 
Choosing a wall color can be more of a personal choice. But knowing the science behind wall colors can help you pick the right one. 
If you need to be in an environment that calms you down and helps you focus, then an accent wall is the best. It can also make the room look larger than it is as an added advantage. But if you like to be energized and inspired as you step in, then go for warmer colors. 
9. Couch or sofa to rest
Having a good chair and a table to work on with good lighting completes your workspace. But to add comfort, you can always pull in a couch or sofa to rest on when you take breaks. It can help change the setting as well as give relief to your back. 
10. Dual-purpose room
If you have an extra room for a guest but not a dedicated office space, it's time to convert it to a dual-purpose room. Then, you can create an excellent and comfortable home office for you to use during the day and make way for your overnight stay guests. The key is to have the right furniture pieces and not go overboard since it's a dual-purpose room. 
Bonus: What do you need to feel the most comfortable and productive? Add those elements to your workspace. That could be your favorite framed quote, a luscious plant, a specific light fixture, or even a coffee maker you love having nearby. 
Home office accessories to decorate your work environment
An average desk-based employee spends approximately eight hours daily sitting at their workstation. Such a prolonged sedentary lifestyle could result in diminished focus, decreased productivity, and increased physical complaints. A simple way to avoid problems is to invest in appropriate ergonomic office furniture that promotes good posture and well-being. 
1. Ergonomic chairs 
A prolonged seated position can affect various muscle groups, leading to bodily discomfort, swollen legs, and joint pains. 
A good ergonomic chair can relieve you of some of the discomforts. And that's why most offices have well-cushioned office chairs. While it may be expensive to get one for your home office, it's worth an investment for the comfort it brings. Choose a chair with an armrest, lumbar support, seat height adjustment, and swivel function. For maximum comfort, set your chair to a height where your feet can rest on the ground. Consider adding a footrest if they don't. 
Link to Buy Chairs (कुर्सी) Online at Best Prices - TheHomeOffice 
2. Work-from-home tables 
A study conducted by Harvard Health found that excessive sitting hours lead to bodily discomfort and raise the risk of numerous diseases. 
A standing desk, according to Healthline, can provide numerous benefits, such as reduced weight gain and obesity, lower blood sugar levels, lower risk of heart disease, and reduced back pain. While an excellent standing desk can be expensive, it comes with the benefit of adjusting the height with a push button. And that means you can instantly switch from seated to standing.
Economical versions are also good, except they require tools to adjust the height each time manually. 
Link to All Tables 
3. Laptop stands
Working from a table is ideal. But sometimes, getting the right height and angle can be challenging. And that's where a laptop stand comes in handy. 
A good laptop stand is a height and angle adjustable, eliminating the need to hunch forward as you look into your laptop. In addition, with its mobile-friendly nature, a laptop stand lets you set up a comfortable workstation wherever you want. 
Link to Laptop Stand 
4. Headphones and speakers
Broken or muffled audio is sure to turn off anyone on the other side. So why play the guessing game when you can hear clearly with a pair of high-quality headphones? 
A good pair of headphones should give you a deep listening experience and send out clear audio from your end. Some high-end microphones also come with an in-built noise-cancellation technique. 
If you're in for some music, a BlueTooth speaker that can double up as your call speaker is your best bet. 
Link to headphones and speakers accessories
5. Laptop and PC monitors
Are you someone who multitasks a lot on your computer? Then invest in a laptop and a PC monitor to get work done smarter and faster. 
When working on a laptop, getting the ergonomic position your body needs can be challenging. The screen is usually too far away, and finding a good angle for your neck takes a lot of work. This can cause neck strain, eye strain, back pain, and even carpal tunnel syndrome if you work for long periods in this position.
A monitor connected to your laptop gives you more room for windows, more open tabs, and an enlarged screen for better viewing. In addition, it allows you to move around more easily and find the most comfortable position for your body so that you don't have any unnecessary pain or discomfort. 
Link to laptop and pc monitors 
Final Words
Being comfortable, focused, and productive at work is essential. And the right furniture, office accessories, and decor can make all the difference to work life at home. While it may overwhelm you initially, you'll feel the difference once you've made the necessary setup. You may even wonder why it took so long to assemble a home office. 
We hope this blog post has helped you gather all the information to set up your stylish yet practical workspace. If you need help with anything home office, check out our other blogs that also carry much information.