Work From Home Furniture: Maximize Your Productivity with Ergonomic Design
Posted by AUTHOR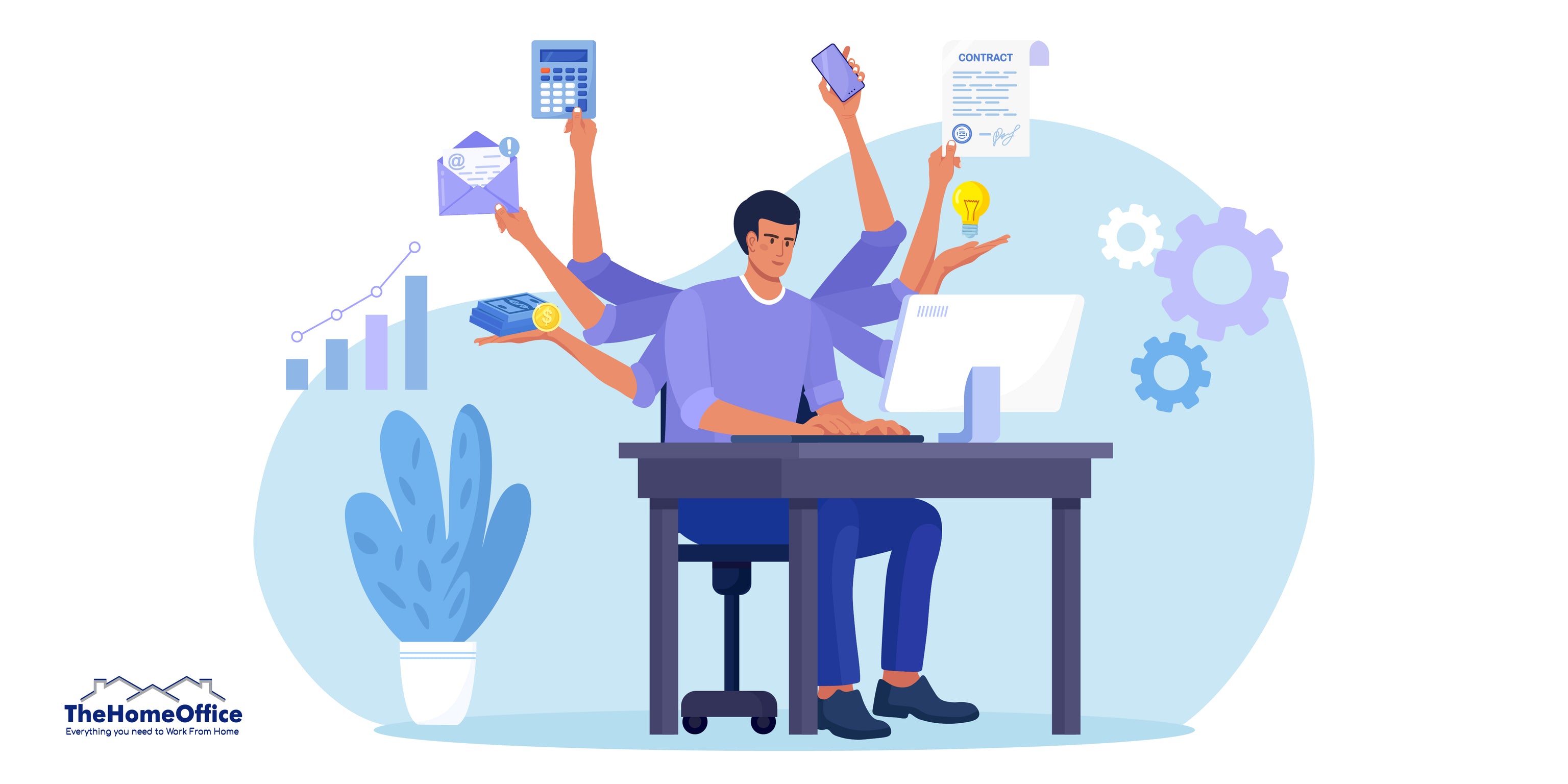 After the covid-19 pandemic and the quarantine, the number of remote workers has increased all over the world. A Gartner survey from December 2020 found that 88% of organizations worldwide mandated or encouraged employees to work from home during the pandemic. Additionally, a study by the International Labour Organization (ILO) revealed that around 20% of workers globally had shifted to remote work arrangements during the pandemic. 
With the increase of work-from-home workers, there is also a demand and need for clarity as to what kind of furniture is the best for a work-from-home office. There are a variety of different apps, companies, and websites to choose from. But choosing the right one with the best quality and customer service is what is the most significant part of the process.
It is really important to choose the right furniture as it can lead to a lot of positive things that contribute towards your company's growth. And for that, all you need is ergonomic furniture. 
In this article, you will come across the meaning of ergonomic furniture and its importance, the best ergonomic furniture for your home office for optimal productivity, and the factors that you need to consider while you purchase a piece of ergonomic furniture. 
The Importance of Ergonomic Design in Work-from-Home Furniture:
Ergonomic furniture is nothing but a variety of furniture designed to maintain and support your body's natural posture and promote comfort in movements, productivity, and overall well-being. 
Ergonomic furniture plays a very significant role in a work-from-home office setup. Listed below are a few of the many beneficial factors of ergonomic furniture in a home office environment:
Productivity
Comfort
Well-being
Focus and concentration
Posture
Physical health benefits
Mental health benefits
Flexibility and adjustability
Employee satisfaction
Retention
Variety to choose from
Work-life balance
Customization and personalization
The main goal of ergonomic design in office furniture is to create a comfortable and supportive work environment for you that promotes healthy posture, reduces the risk of musculoskeletal issues, and improves overall well-being and productivity.
 It is very crucial to consider factors such as individual preferences, work tasks, and any existing health conditions when selecting and setting up ergonomic furniture for a home office. By prioritizing ergonomic design, individuals can create a workspace that promotes health, productivity, and overall job satisfaction while working from home.
Best work-from-home chairs for ergonomic support:
There are several items available when you are looking for an ergonomic chair for your home office setup. A few of the many items are listed below, choose the one for your liking:
Human scale freedom chair:

this chair is known for its super supportive headrest, self-adjusting recline mechanism that adjusts according to your body movements, and single-handed adjustments, and additionally it promotes natural movement and encourages good posture.
Steelcase gesture chair:

this chair is also designed to adjust immediately according to your body movements. It is designed to support various body movements making it the ideal chair for long hours of work.  It has adjustable armrests, a flexible backrest, and a supportive seat. The chair adapts to your movements, providing comfort and support throughout the day. 
Ergohuman High Back Swivel Chair:

the most advantageous and beneficial factor of this chair is that it is made up of more than 97% of recyclable items, making it one of the most eco-friendly products. Besides, this chair features a high backrest with adjustable lumbar support, ensuring proper alignment and reducing strain on the lower back. It has multiple adjustment options, such as height, armrests, and tilt and its mesh back promotes breathability, and the seat is cushioned for comfort.
Herman miller aeron chair:

after its debut in 1994 this chair is known for its ergonomic design and adjustable features, the Aeron Chair offers excellent lumbar support, customizable seat depth, and adaptable armrests. It has a breathable mesh back that promotes airflow, and its ergonomic design helps maintain proper posture.
Steelcase amia chair:

this chair is known for offering a balanced combination of style, sophistication, comfort, and support. Additionally, it is designed with adjustable lumbar support, a flexible seat edge, and a contoured backrest for optimal spinal alignment. The chair promotes healthy sitting postures and provides long-term comfort.
Best Work from Home Tables for Optimal Productivity:
There are several items available when you are looking for an ergonomic office table for your home office setup. A few of the many items are listed below, choose the one for your liking:
Herman Miller Renew Sit-to-Stand Desk:

this table is known for its elegance and ergonomic design that encourages regular movement for various postures. It is designed for both sitting and standing modes of work. It is additionally featured a sleek design and provides ample space for your work essentials. It also features cable management solutions to keep your workspace organized.
IKEA Bekant desk:

 The Bekant series from IKEA offers affordable standing and sitting desks suitable for a work-from-home environment. These desks come in various sizes and styles to accommodate different workspace needs. They provide ample workspace and straightforward height adjustment options.
Steelcase Series 7 Electric Height-Adjustable Desk:

this table also helps you shift to different postures and be able to adjust the height accordingly. It has a modern and sleek design with amazing functionality, it is also designed with an electric motor for smooth adjustability.  It also has programmable height presets and integrated cable management.
Ergotron WorkFit-DL Standing Desk:

it is an elegantly designed desk for both sitting and standing modes of work. This adjustable standing desk allows you to switch between sitting and standing positions, promoting better posture and reducing the risks associated with prolonged sitting.
Fully Jarvis Bamboo Standing Desk:

This eco-friendly desk is made from sustainable bamboo and offers a smooth electric height adjustment mechanism. It provides a spacious work surface and comes with programmable height settings.
Other Ergonomic Work from Home Furniture Pieces to Consider:
While on the one hand, ergonomic and well-designed work-from-home tables and chairs are important for your home office set up, on the other hand, you might as well consider other essential items to add to your home office t make your work life at home so much better, organized, and sophisticated. 
Listed below are a few other ergonomic furniture or things you can consider adding to your home office:
Monitor stand or laptop stand
Cable management system
Good wifi 
Ergonomic desk accessories
Ergonomic file organizers
Proper lighting system
Selected color theme 
Document holders
Ergonomic chair cushion
Proper ventilation and air supply, etc..
I added "etc" at the end to emphasize that there are many more things you can consider adding and the main key to choosing the best of the best without regretting is to first create a list of things you want to add to your home office and then to set a budget for everything and purchase accordingly. 
Factors to Consider When Choosing Work-from-Home Furniture:
While you may think buying a piece of furniture may be easy, you must know that there are various factors that you need to consider before you purchase a piece of furniture. These factors include:
Space and environment:

the place where you want to set up your home office is very important. It should be something that separates your work life from your personal life. It should also be a place that creates a working environment for you to be more productive.
Budget:

setting a budget helps you purchase items that are only absolutely necessary and helps you not regret purchasing a certain item later on. While purchasing the best quality items is necessary, it is also important to find a balance aligned with your budget. 
Storage space and organizers:

you will need quite some place for storage and organizers for your important office files and documents.
Durability and quality:

it is important that you consider purchasing items that last longer and are durable and their quality is designed to its finest.
Eco-friendly:

while you consider buying high-quality items, you might as well consider purchasing eco-friendly items to give back to the environment. 
Aesthetics:

you should also buy things that suit and adds to your aesthetics as it helps you be more productive.
Sustainability

: If environmentally friendly practices are important to you, consider furniture made from sustainable materials or from companies with eco-friendly manufacturing processes. 
Where to Buy the Best Work-from-Home Furniture:
While we are onto this, I might as well recommend this amazing place to browse for your home office needs. It is called "thehomeoffice.in". They are known for their best customer service and reliability. Their furniture and items are of the best quality and with an affordable price range.
Their items are sustainable and have the best durability. And not only that, their products are delivered or shipped without any hassle and installation. TheHomeOffice is an initiative of the most trusted company - OffiNeeds, and they have over 17 years of working experience with large corporate companies like Infosys, Merck, Biocon, Flipkart, and many more. 
Check out their website for more amazing information, see TheHomeOffice and OffiNeeds.