10 Best Office Chairs For Working From Home
Posted by AUTHOR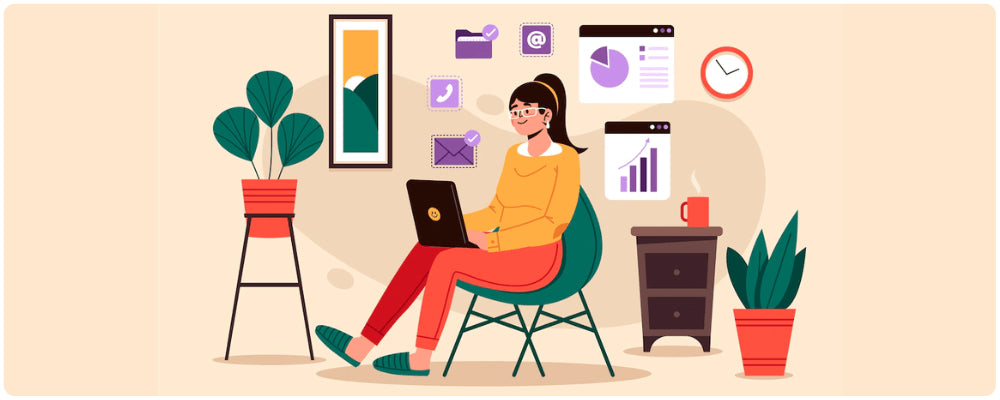 Work from home is here to stay for a long time. This has become a preferred mode of operation for many businesses under the present scenario.
To ensure better productivity, it becomes all-important to set up a workspace at home. The place that you work from must be highly comfortable to ensure work efficiency. 
Read this guide and find the right work from home chairs to improve your comfort and productivity level while working remotely.
Best Work From Home Office Chairs of 2023
Ergonomics plays a crucial role in comfort. Work from home entails sitting for long hours. The chair you use should be comfortable and reduce your strain. Selecting the right work-from-home furniture helps in ensuring comfort.
The chair should be height-adjustable, should have a good armrest, must support your back to maintain proper posture, etc. Have a look at the following work from home chairs to choose the best chair for your home office.
1. Lorem Medium Back Chair
If you are looking for high-quality height-adjustable chairs, look no farther than Lorem Medium Black chairs. 
Key Features
Pneumatic seat height adjustment

90-degree tilt lock available

Fitted with nylon mesh back

Imported caster wheels facilitate easy movement
Why is it important: Generally, most tables come with a fixed height, which is not a one-size-fits-all. In such cases, height-adjustable chairs come to the rescue.
The distance between the monitor and your eyes can be better placed only when chair height is adjusted. Also, placing the elbow while working on a keyboard should be easier. Lorem Medium Black chair ensures all this and is a must-buy for your home office.
👉 Buy Lorem Medium black chair
2. Rome High Back Chair in Chrome Base
Excellent addition to your office set-up would be the Rome High Back Chair. This is an ergonomic chair built to give maximum comfort.
Key Features
Tilt lock mechanism that can be fixed in any position

Leather headrest.

Back support with nylon mesh.

Lumbar support adjustment option.

Steel chrome base of the best quality.

 
Why is it important: The Rome High back chair is specifically suitable for long working hours. Freelancers and others working from home tend to sit for long stretches, which can cause spinal issues. These chairs are the best solution for these professionals. 
3. Atrium High Back Chair
Your spine needs support during long hours of working. The Atrium High Back chair can be good support for you during work.
The high-back chairs offer support to the head, neck, and entire back. You can be free of back pain that normally arises due to continuous sitting.
Key Features
Seat adjustable to body weight.

90-degree tilt lock system.

High backrest support.

Hydraulic height adjustment for the seat.

The up and down gas lift is made up of high-quality material, making it durable.
Why is it important: Atrium High Back Chair helps position yourself appropriately for work. This helps to avoid tensions in the spine. 
👉 Buy Atrium High Back Chair the product here
4. Sydney High Back Ergonomic Chairs
Ergonomic chairs offer the best support for your back. They are designed in such a way that there is no strain on your shoulders or back even after long hours of sitting. 
Key Features
PU pad molded seat foam that gives maximum comfort

High-quality gas lift.

Taiwan twin wheel casters with nylon base.

Adjustable lumbar support.

Backrest upholstered with mesh.

Single locking synchro mechanism to keep the chair from moving while working.

2D adjustable armrest.
Why is it important: Sydney High Back Ergonomic chair comes with a lot of attractive features to suit people working from home. Available in stunning black, this chair is a must-buy.
👉 Buy Sydney High Back Chair Here
 Best Study Chairs
Concentration is crucial during study hours. This can be possible only if the study atmosphere is conducive. It includes the furniture in the study room too. Choosing the best study chairs is therefore essential.
Children can get the proper posture and are also able to concentrate better on their work.
5. Swan Medium Back Chair
The Swan Medium Back Chair is a stylish and ergonomic seating option for any home office. The chair is designed with a sleek, modern aesthetic and features a medium-sized backrest that provides support for the mid-to-upper back region.
 Key features
Highly comfortable

Silver-coat MS frame
6. Finchi Medium Back Chair with Cushion Seat
This stylish-looking chair can be your child's best companion for study. Made up of steel, this chair is highly sturdy. Sitting long hours does not cause any strain on this type of chair.
 Key Features
A non-revolving chair as there are no wheels.

Comfortable seat made of foaming cushion

Steel back frame for strong support.

Round steel chair legs for balance.

The chair is fixed with no height adjustment.

Chair legs are made of chrome steel.
 Why is it important: Non-revolving chairs are suitable for study purposes. Make sure you choose a desk to match the height. 
 👉 Buy Finchi Medium Back Chair
7. Watte Grey and Black, With Steel Chrome Finish
Ergonomic and visually pleasing chairs for both your home and office. This Watte grey chair provides comfort for long hours of work and are a great addition to any workspace.
Key features
Fomain Cushion chair seat

Silver Coated Chrome art rest

Plastic Arm Rest Cover

Non Revolving Chair
👉 Buy Watte Grey and Black Ergonomic Chair
Best Cafe-Style Chairs
Cafe-style chairs for your home office can be a good investment. These are suitable for both indoor and outdoor use. These chairs add more beauty and functionality to your home office space.
8. Cafetaria Premium Chair
This modern-looking chair is suitable for both indoors and outdoors. The seats are made of polypropylene and are available in bright red. This cafeteria chair can double up as a chair for your desk as well. 
 Key features
Strong wooden legs.

Contemporary and stylish design.

Can be used outdoors on your balcony also.

Very compact and space-saving.
 Why is it important: When it comes to home office furniture, an important aspect is a space available. The furniture should be space-saving and should fit in the available space. The cafeteria premium chair exactly fits the purpose. Use it as your study chair or in your outdoor or your coffee corner.
Best Gaming Chairs
Gaming and streaming chairs have a unique build and look mighty. These chairs are carefully made especially for gamers, so they carry all comfort that may be necessary. These can also be used as office chairs for comfort. The headrest, arm, and lumbar support are more comfortable here than the office chairs.
9. Racer Gaming Chair in Leatherette 
Made of high-quality leather, this is one of the best options for gamers. Available in stunning blue and black, the chairs offer great comfort and support.
 Key features
Adjustable armrest 

Adjustable lumbar support and headrest

Recline option is available for resting

The tilt and lock option is available

Offers the best gaming experience.
 Why it is important: Playing for long hours cannot be more comfortable. These racer gaming chairs are fitted with caster wheels for easy movement. You can customize your seating position as it allows reclining between 90 to 180 degrees. The leather seats give it a magnificent appearance.
10. Lazer Pro Gaming Chair with Leg support
This gaming chair has the best design with knitted mesh fabric for back support. It ensures that you do not feel uncomfortable during long hours of sitting.
 Key features
Breathable cushion fabric

Foldable leg support

Ergonomic design

Lumbar support.

Reclining facility

Adjustable headrest

Tilt and lock option available
 Why is it important: Lazer Pro Gaming chair has been designed to offer the best support to your back. Its ergonomic design benefits your back, shoulders, and neck. 
Conclusion
Comfortable working is essential to maintain health and also to be more productive. Choosing the best chairs for the right purpose becomes highly important for this purpose. The Home Office is the ultimate destination for ergonomic chairs.
Unlimited varieties of office chairs, gaming chairs, and study chairs are available. Read the specifications and choose the one that fits your expectations.