15+ Essential Work From Home Accessories for 2023
Posted by AUTHOR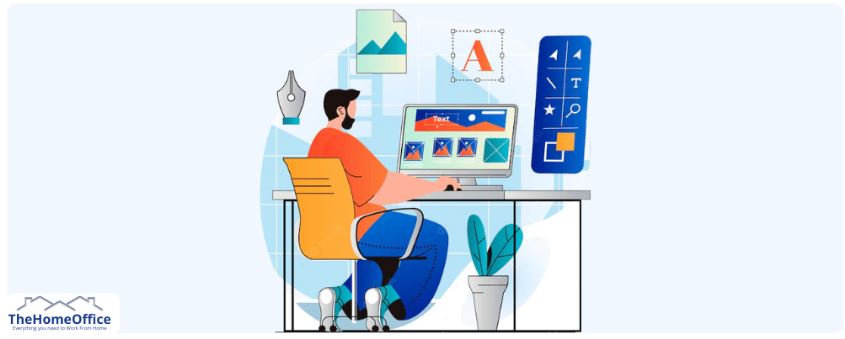 When Covid-19 unleashed itself across the world, the global economy fell to its knees. Many companies had their employees operate from home to survive an economic breakdown due to the lockdown. 
As businesses continue to follow the work from home model, it's imperative that you take a critical look at your remote office to ensure higher levels of productivity.
In this article, we'll discuss the top work from home accessories that are essential for every employee in the current climate.
1. Good work–life balance
Remote jobs often come with flexible timings, which means the employees can start and end their work anytime they wish, as long as their productivity is not compromised.
This control on work timings helps you attend to your personal needs more efficiently.
Be it dropping your children at school, helping with chores, or enrolling in online classes, you can do anything if you know how to manage your time. 
2. No commute stresses
According to reports, employees spend over 100 hours commuting and around 40 hours in traffic every year. For some, it may be even more. The long hours of travelling and waiting in traffic not only affect the employees' productivity but also harm their health.
Too much commuting often increases stress and anxiety, impacts cholesterol and blood sugar, and increases the chance of depression. 
Ditching the commute helps in physical and mental health. The time saved on commuting can be utilized for something beneficial and productive. 
15 Must-Have Work-from-Home Essentials In India
To make work from home comfortable, it is important to have the right home office setup, which includes WFH tables, chairs, etc. All these essentials support your spine and maintain a good posture, thereby preventing both physical and mental discomfort. 
Read along to know the must-have essentials that are invaluable for working from home. 
1. Versa Table
Price range: ₹7500–₹8,000
Looking for a table that is flexible yet versatile? Your search ends at Versa Table. The all-new Versa Table from TheHomeOffice comes with adjustable height and angle that can be locked firmly in position. 
Key product features: 
Adjustable height.

Robust design.

Angles can be adjusted on the tabletop.

Wheels for greater mobility.

Space-saving.
Why is it important: What is more comfortable than a table that helps you work from desired height, angle, and pace?  The Versa Table provides additional support to make sure your laptop stays steady even at the steepest of angles. Above all, it's sleek and space-saving.
In short, it is one of the must-haves for work-from-home employees and freelancers. 
2. JBL Quantum 600 Wireless Over-Ear Headset with Mic & Surround Sound
Price range: 
₹10,000–₹15,000
The JBL Quantum 600 2.4GHz wireless gaming headset is designed for immersion and performance, providing a competitive edge with accurate and immersive sound. 
Key product features: 
JBL Quantum Surround with DTS headphone X 2.0 offers a realistic soundscape.

DISCORD Certified game-chat balance dial provides you with unique sound cards for the game and Chat audio.

The headset is compatible with all gaming platforms like Xbox, PC games, Playstation, Nintendo Switch, and more.
Why is it important: JBL Surround sound headset is made of leather, lightweight, and is wrapped with memory foam for extra cushion to give great comfort during long working hours. 
3. Philips SHM 1900 Headphone with Mic 
Price range: ₹1,000–₹1,600
Philips SHM1900/93 Over-Ear PC Headset is designed with perfection to give you a superior audio experience.
Key product features:
Powerful mic to pick up voice without distortion.

The over-ear style offers great comfort and unwanted noise cancellation. 

Provides the best acoustics for high-quality sound.

Compatible with smartphones, laptops, and tablets.
Why is it important: Philips SHM1900/93 Over-Ear PC Headset is designed to offer superior audio clarity. The lightweight design and fully adjustable headband make it a must-have for the home office. 
4. Manchester Vegan Leather Desk Mat – Tan
Price range: ₹500–₹800
This super minimal and clean desk mat helps you organize your work desk efficiently. The durable and scratch-proof design protects your desk from spills, scratches, and scrapes.
Key product features:
Cruelty-free vegan leather backed with felt

Aesthetically appealing

Easy to clean and comes with a pen holder
Why is it important: Manchester Vegan leather desk mats come with a durable and long-lasting design. It only takes a few minutes to clean and sanitize the mat. The mat can easily be shifted from one tabletop to another. It helps in smooth and swift mouse movement besides holding your coffee, stationery, and documents in place. 
5. Post-it Dry Erase Whiteboard Removable White Film
Price range: ₹2,000–₹3000
The post-it removable whiteboard film is an apt fit for shared workspaces. It improves creativity as it can accommodate ideas and inputs from all your teammates. 
Key product features
Easy installation with no tools (just unroll, peel, and stick)

Strain-proof and easy to clean

Smooth surface for easy writing
Why is it important: Replace your old whiteboards and chalkboards with the cut-to-fit and customizable post-it dry removable white films and create horizontal collaborative spaces on desks and tables. Just couple this product with a dry erase cleaning cloth or dry erase accessory tray, and you are good to go.
6. LG 32UL750-W Monitor 32" 4K UHD (3840 x 2160) 
Price range: ₹45,000–₹55,000
The LG 32UL750-W monitor comes with a VESA display, HDR 600, Radeon Freesync, and USB type-c with on-screen control. 
Key product features
Best for personal, gaming, and business purposes.

It comes with a wide 32" screen to provide a realistic visual experience.

User-friendly on-screen control/split-screen.
Why is it important: The widescreen reduces the strain on the eyes to a great extent, which makes the product a boon for those staring at the screen for a long time. The high-resolution display offers a flawless vision that helps you focus better. In short, this product makes the lives of work-from-home professionals and freelancers much easier.
7. Oxford High Back Chair
Price range: ₹8,000–₹10,000
Do yourself and your spine a favour by investing in an Oxford high chair for your home office. The high chair with adjustable features gives you superior comfort by maintaining a good posture.
Key product features:
Pneumatic adjustment of seat height 

Mesh headrest that can be adjusted

Adjustable armrest

Built-in lumbar support
Why is it important: The Oxford high back chair can revolve in 360 degrees and is made of a high-quality nylon base that provides great resting for your back. The built-in lumbar support with many adjustable features makes long hours of sitting more comfortable and enjoyable.
8. My Buddy K3 Portable Laptop Stand
Price range: ₹2,000–₹3,000
Take your work experience a few notches higher with the Portronics My Buddy K3 Foldable Laptop Stand. It comes with an ergonomic design that prevents overheating and a broad surface area that fits devices of all sizes. 
Key product features:
It saves space and can be operated at any comfortable angle.

The adjustable stand with its ergonomic design alleviates the strain on your neck, thereby reducing the chances of neck pain and back injury.

The anti-slip silicone pads firmly hold the laptop in place at any angle.
Why is it important: One factor that bugs freelancers and remote working professionals is the neck and back injury caused by improper posture and craning. Portronics My Buddy K3 Portable Laptop Stand comes with a zigzag design that enables you to adjust the height and angle. This supports your lumbar and spine and saves you from physical discomforts. 
9. Portronics My Buddy D Wood Multipurpose Movable & Adjustable Table for Computer & Laptop
Price range: ₹1000–₹1,500
The Portronics My Buddy table serves multiple purposes and can be used as a drawing or reading table and also for electronics. It provides enhanced protection with integrated safety wheel locks.
Key product features:
Sturdy and built with engineered wood.

Adjustable height to provide maximum comfort

Portable and multipurpose

Self-assembly
Why is it important: The portable table is made of pre-laminated particle wood that offers stability. The four caster wheels offer greater mobility and can be moved across your workplace/home with ease. In short, it is as flexible and versatile as your remote job. 
10. Coolnut 96000mAh Power Bank/Mini Inverter
Price range: ₹20,000–₹30,000
With the Coolnut Power Bank/Mini Inverter, you can charge your laptops, phones, and notebooks with stable power output and a massive 96,000 mAh capacity.
Key product features:
Great adaptability makes it compatible with phones, laptops, and notebooks. It can also be carried outdoors for camping, shoots, etc.

It also comes in handy to charge medical devices like oxygen concentrators, CPAP, BiPAP, nebulizers, and so on
Why is it important: The huge capacity and portability make it highly valuable for those operating from home. They can practically work from anywhere without worrying about charging their electronics.
11. Luka Desk with White Board Marker and Pin-Up Board (Oxford Cherry)
Price range: ₹5,000–₹12,000
The table with a pin-up board and whiteboard marker is the perfect accessory your workspace was waiting for. It has additional length to help you have a drawer underneath the table to keep all your documents and stationery. 
Key product features:
Strong pre-laminated particleboard.

The product comes with a pin-up board and marker.

Compact size. 

It can accommodate an additional drawer.
Why is it important: The Luka Desk is the one solution for all your table needs. It is perfect for a home office as it is compact, robust, and dynamic.
12. Portronics My Buddy Hexa III Foldable Laptop Stand
Price range: ₹600–₹800
The product is apt for those willing to work at their comfortable viewing level as it comes with 12 viewing levels. The laptop stand has cut-out vents to prevent overheating.
Key product features:
12 adjustable viewing levels

Scientific design that prevents overheating

Anti-slip and anti-scratch body

Great compatibility
Why is it important: The ergonomic design with Airy Shell enhances passive airflow and natural cooling and hence is most suited for those working long hours. 
13. Foldable Steel Laptop/Tablet Stand with 5 Adjustable Positions
Price range: ₹1,000–₹2,000
The foldable laptop/table stand helps in better viewing and typing owing to the various ergonomic positions provided by the stand. 
Key product features:
Anti-skid silicone pads to protect from scratches.

Fully collapsible design to save space.

Increased ventilation. 

Forward-tilt angle for better working posture.
Why is it important: The stand offers five different viewing positions to provide maximum comfort. The forward-tilt angle fully supports the back and neck, and these features make this product a must-have for freelancers and remote working employees.
14. Portronics Key3 Combo Multimedia Wireless Keyboard & Mouse Set/Combo
Price range: ₹1,000–₹1,500
Upgrade your work-from-home experience with the Key 3 Keyboard/Mouse Combo, which is designed ergonomically to avoid hanging wires and a clumsy workspace.
Key product features:
Freedom from dangling wires

Silent key 

Latest wireless technology

Ultra-slim with ergonomic design
Why is it important: The lightweight and sleek design makes it comfortable to carry around. The mouse comes with the latest wireless technology that is super-fast and provides a seamless user experience.
15. Sit Plus Lumbar Support Cushion
Price range: ₹1,500–₹1,700
Sit Plus is an orthopaedic lumbar support pillow particularly designed to correct and maintain your posture, alleviating back and neck pain during long working hours.
Key product features:
Special German design that supports core muscles and spine

Clinically approved design recommended by spine specialists
Why is it important: The clinically approved design is used as a preventive and corrective tool for spine alignment. Enjoy your work-from-home experience while simultaneously taking care of your spine and back.
Final Words
Given the shift towards digital solutions worldwide, it's safe to say that the WFH model is likely to continue in the foreseeable future.
This explains the need to invest in WFH essential accessories. If you are looking for the best place to buy WFH furniture, consider taking a look at TheHomeOffice store, which has a large and versatile collection of home office accessories.